Caledonian Canal history and heritage
Find out more about the challenges faced by the great engineers and their world-class innovations - resulting in this great coast-to-coast waterway.
1773
The canal was conceived to provide safe passage for shipping including the British Royal Navy, avoiding the dangerous route through the Pentland Firth and around Cape Wrath. The construction of the canal also provided employment after the Highland Clearances. The route was first surveyed by James Watt in 1773.
1803
Act of Parliament was passed authorising the construction of the canal. Thomas Telford was asked to survey and build the canal with the help of William Jessop. The work was expected to take 7 years to complete at a cost of £474,000.
1815
Napoleon was defeated at the battle of Waterloo and the perceived threat to British Naval shipping was gone.
1822
The 22 mile canal with its 29 locks was open. It had taken 12 years to build at a cost of £910,000.
1843-1849
Defects in the construction material resulted in a partial collapse of the locks at Corpach and the canal bank at Cullochy. The canal was closed and the defects addressed by James Walker; an associate of Telford.
1873
Queen Victoria took a trip along the canal.
1914-1918
Shipping increased during WWI as vessels tried to avoid the German Navy patrolling of the Northern coasts of Scotland.
1920
Ownership of the canal was transferred to the Ministry of Transport.
1930s
Paddle steamers like the Glengarry and Gondolier, operate busy passenger services along the Great Glen.
1960s
The canal is mechanised replacing manpowered capstans with hydraulics to operate locks and bridges.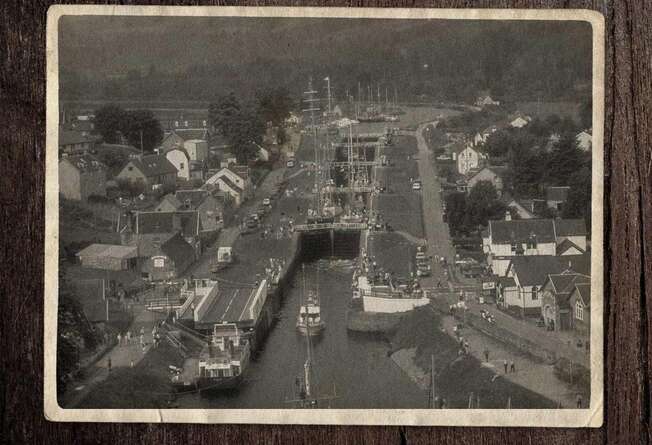 1962
Ownership of canal transferred to the newly created British Waterways.
1995
Major restoration works are undertaken for the next 10 years.
21st century
The Caledonian Canal is now used for commerce and leisure, attracting visitors from all over the world, both on and off the water.