Cycling
Enjoy a leisurely cycle ride along your local canal or take the family and the bikes off somewhere special to enjoy the outdoors.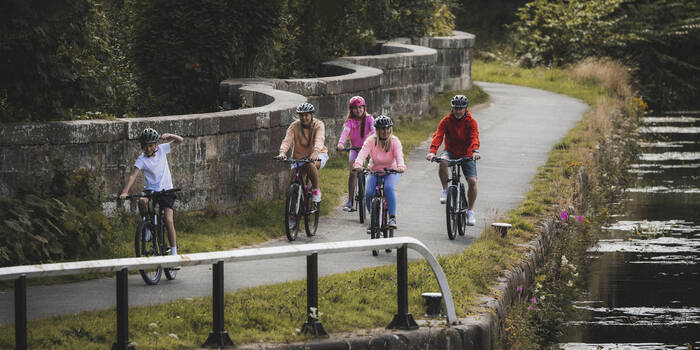 Trails crossing multiple regions and canals
From undertaking an adventure along one of our nation's breathtaking long-distance routes, or paddling in the shadow of some of Scotland's natural and man-made and marvels, our incredible canal network has no shortage of wonders to explore. Start planning your next big adventure!
A coast-to-coast route across central Scotland from Helensburgh in the west to Dunbar in the east.
There's something for everyone along the line of the Antonine Wall – for Roman enthusiasts, keen walkers, cyclists, families and day trippers.
National Walking and Cycling Network
This ambitious project will grow Scotland's network of paths, trails and canal towpaths from 6,000 to 8,000 kilometres by 2035.
The NWCN builds on existing path and trail networks such as Scotland's Great Trails, the National Cycle Network and canal towpaths. The project will close key gaps, upgrade connecting routes, link to public transport and promote shared use of paths. Active travel and recreation will be easier and more accessible as a result – which means that we all win. It's good for our health and well-being and for Scotland's nature and landscapes. And as better routes attract more visitors and tourism, it's good for local businesses and the wider economy too.
View the National Walking and Cycling Network – Scotland map of existing paths, trails and canals and proposed routes.